Our History
London Surfacing is an independent company which has been carrying out carriageway surfacing, footway surfacing and road surfacing maintenance on all carriageways/highways since 1971. We pride ourselves on the personal attention that we can offer our clients. London Surfacing are incorporated as civil engineering and public works government contractors.
Maintaining our Values
To achieve our aim of continual excellence, not only in our finished production but also just as importantly in customer service, our core values must be flexible enough to propel us forward into the changing markets we operate in today.
What do our Values mean in practice?
Reliability - trusting our knowledge and respecting your surfacing needs. Giving 100% to every surfacing project from start to finish
Flexibility - We continually set ourselves performance goals and aim to build strong relationships with partners, contractors and clients. We learn from our mistakes to better our future performances.
Innovation - We welcome change and embracing modernisation is the key to our philosophy. Continually improving our knowledge of all aspects of surfacing work means we're flexible enough to adapt and apply our skills in new areas.
Approachability - We know that clear communication and integration - within the Company and with clients, partners and contractors, is vital to enable success in the future.
Experience
London Surfacing offers its clients an experienced team to answer any project queries.
Our workforce is composed of loyal, long serving & well trained employees who are both friendly & courteous.
As part of our commitment to Quality Assurance, the development of our workforce through training is essential to the growth of our company. That development comes in many forms, through in-house training to completing external courses & schemes.
Our personnel are trained to CSCS, CPCS, NRSWSA & NVQ standards.
Each time that new plant is added to the fleet, at least two operatives are fully trained to safely use the machinery.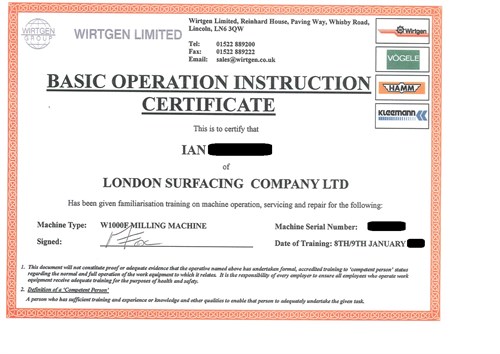 Future Developments
We believe that the progression of our company relies on the development & education of our workforce, particularly our awareness towards Health & Safety and the environment. This would clearly establish a platform for London Surfacing as a company to perform our tasks in a safer and environmentally efficient way now and in the future.
Improving our customer service is always a major goal. We recently updated our Quality Assurance system to ISO 9001. Within this system, through internal audits and registered feedback from our clients we willingly have to maintain and improve the services we provide.

Our commitment towards training our operatives will be as focused as ever because an educated workforce will help us as a company to accept a broader range of surfacing work.