For All Surfaces

Having been in operation since 1971, London Surfacing have a reputation for being one of the most reliable independent road surfacing and resurfacing contractors in the UK . Over time we have established good working relationships and have become key account holders with some of the largest aggregate companies in the country. Therefore we can offer machine and hand laid surfaces to cover the following:
Full construction and resurfacing of carriageways, footways, cycle lanes, bus lanes, car parks and driveways. We can also offer you a number of different surfaces for the above - see our Surfacing Products page for more information.
Playground Surfacing and Resurfacing - We are one of the leading contractors in the London, Surrey and other Home Counties for supplying safety surfacing. We also supply and lay wheelchair accessible surfacing for commercial and residential playgrounds.
Sports Surfaces - We can lay specialised products such as Leisuretex and Courtmaster.
Approachability - We know that clear communication and integration - within the Company and with clients, partners and contractors, is vital to enable success in the future.
We can also undertake some of the associated services linked with surfacing contracts:
Paving Contract Works - As experienced paving contractors we can provide block or brick paving in various styles & colours, supplied by all the major stone merchants.
Tarmac Surfacing - For more details about our services as tarmac surfacing contractors click here
Road Sweeping - We own our own road sweepers.
Crash Barrier Installation - We can supply and install height-restriction barriers, parking posts and bollards etc.
Groundworks - As part of a surfacing contract we can undertake small areas of landscaping, including the laying of turf and the planting of small trees, bushes, shrubs and plants.
Linemarking - We offer thermoplastic linemarking for car parks, roads, sports play areas, playgrounds & cycle lanes etc. These can be provided in a number of colours
We can also help with your transportation conundrums by using our Low-loader to move your bulk loads wherever you require.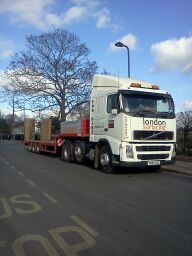 Our Volvo cab & Kinshofer trailer can transport plant, vehicles & other bulky loads to your destination. CONTACT OUR HEAD OFFICE FOR RATES.
Area of Scope
Geographically, we cover the Home Counties (Surrey, Kent, Essex & Middlesex) as well as Berkshire, Buckinghamshire, Cambridgeshire & Oxfordshire.
We also undertake works in all the London Boroughs within the M25 orbital.